Terry Simpson M.D.
We believe a surgeon should be available to you. Today when many practices rush through patients, we give you access to your surgeon. Access through email , the internet, the telephone, and in the office. Did you ever have a simple question you wanted to ask your doctor? Imagine if you could email and ask a simple question—no office, no co-pays, just a simple question that is answered quickly – a fast email. It isn't just a dream—it is the way we run our practice.We believe a surgeon does more than operate. The surgeon is a unique person who knows your anatomy—knows you inside and out.
Dr. Simpson piloted a program of Google Hangouts for his patients. This combined with Weight Loss Fest allows patients to sign into a secure site for support from one another, and to participate, by computer for support group meetings. Three times a year he does "Weight Loss Fest" a highly interactive cooking and celebration of weight loss.
Dr. Simpson received his undergraduate, graduate, and medical degrees from The University of Chicago, and surgical residency at Virginia Mason Medical Center in Seattle. He is a member of the American Society of Metabolic and Bariatric Surgeons, as well as a Fellow in The American College of Surgeons. He has authored three books about weight loss surgery as well as a number of articles.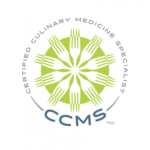 In April 2017, Dr. Simpson  became a Certified Culinary Medicine Specialist. The certification means that he fulfilled the curriculum requirements and demonstrated evidence of comprehensive knowledge of nutrition and culinary skills. Dr. Simpson is recognized in his commitment to the highest standards of culinary medicine in patient care.
Dr. Simpson has been doing weight loss surgery and laparoscopic surgery since 1991. He began doing laparoscopic bariatric surgery in 1994. He has done thousands of laparoscopic cases. Dr. Simpson began doing the gastric sleeve in 2002 as a stand-alone procedure, and in 2002 offered them laparoscopically. Dr. Simpson's first band patients were in 2003, and after seeing the results of the LAP-BAND in his own patients he decided to only do the LAP-BAND surgery for weight loss.
Today we focus on the gastric sleeve and the adjustable gastric band for weight loss. But the largest component of what we do is teaching patients to eat differently, and encouraging changing their diet both before and after surgery.
There are many patients who have enjoyed both Lap-Band and Gastric Sleeve by Dr. Simpson. While he is known widely for being one of the first surgeons to offer the gastric sleeve for weight loss, he is also known for his work with the Lap-Band.
"My nurse, who could have had any weight loss operation, chose to have the LAP-BAND. She had her choice of any of the operations we offered at the time, the RNY , the lap-DS, the sleeve, and the LAP-BAND. She had her weight loss operation on a Tuesday and was back to work on Monday. That was in 2003. She lost her excess weight in a year and has kept it off ever since".
"Surgery, like all of medicine, advances. Antibiotics change, heart stents now have special coatings so they last longer, artificial hips now last 45 years instead of 10 years. All of medicine advances. When we did the RNY it was the most advanced surgery at the time. The LAP-BAND and the gastric sleeve are the most advanced, safest surgeries offered today. It now has a proven record in this country as well as in Europe and Australia."
Dr. Simpson loves to stay in touch with his patients, and answers their emails, even between surgery cases—on his Iphone. His support group is found on-line and they have their own private area on google plus. There interaction can occur day and night as well as google hangouts. Dr. Simpson can be found on google plus http://plus.google.com/+TerrySimpson . In fact, stay in touch with him on Twitter! www.twitter.com/drterrysimpson or Facebook www.facebook.com/drterrysimpson
Dr. Simpson was the first Arizona proctor for the company that made the band, Allergan. A number of surgeon around the US were first proctored by Dr. Simpson. Being selected as a proctor means that Dr. Simpson not only had advanced laparoscopic skills, but was observed in surgery and determined to be a good teacher. Dr. Simpson had been teaching surgical residents for years (surgeons in training) and involved in the training of medical students and PA students.
What does that mean? It means that some of the surgeons in town were proctored by Dr. Simpson to do the Lap-Band. We believe they are good surgeons, and approve of their operative skills. We taught Dr. Nirmal, now with trueresults – how to do the band. Dr. Simpson is so well known for weight loss that many who use Google Adwords use his name to attract customers. But there is only one original – and here is where you find him.